Minifanfan is having her 2nd giveaway!

today is the last day to join!

[manage to spend time on my blog now
so lucky me =D]
so guys let's check out
her goody goody precious prize
that's gonna be give out
it's her handmade design earring =P
very unique and original!
and guess what?
u guys gonna stand a chance to get
pipit's 4th issue mag!
all you have to do is
go to her
blog
and start to follow the instruction written there
to join her giveaway
************************************************************
minifanfan
worked as an
artist
and
illustrator
at Kuala Lumpur
i guess that is why the possible that she is good with
designing her creativity using a computer software
[i wish i can do that too!!!]
well,
it's quite often that i will visit
handmade and craft's blogs
and
minifanfan
blog will not be exclude from my
blog stalking list!
minifanfan handmade are sold in
ETSY
her ''happy drawing for happy people" little on9 shop =)
she can be SEEN in art market too!!!
wanna see her in real person?haha...
follow her
blog
and
facebook
!
or you guys can go to PIPIT Market
at the 1st sunday of each month...
i bet u gonna see her there
[i guess she will be there in EVERY market
of the month >__< ]
i personally adores her handmade necklace very much
coz u are not gonna find it anywhere outside with this kind of design
it's a very nice accessories to be use!
not only that...
i love her drawing too!
the reason is because she used color it with bright colors..
i love colourful thingy and bright stuff..
so minifanfan is one of
my favourite blog to be visit!
so girls out there remember to give a visit to her blog
if you are interested in DIY handmades...
chaoz now!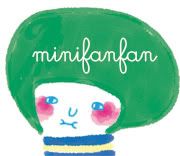 *click*